Stop what you're doing and look at your hands.
Is your ring finger longer than your index finger?
If so, you were likely exposed to higher levels of testosterone while you were in your mother's womb.
Is your index finger longer than your ring finger?
Then you were exposed to lower levels of T as a fetus.
Real Herbs Indonesian ... Buy New $33.70 ($0.67 / Count) (as of 09:40 UTC - Details)

So what?
Well, while it might sound like hokey palm reading, researchers are finding that the ratio between the length of your ring and index fingers may, in fact, correlate to your prenatal exposure to T, and have a significant influence on your body, brain, and behavior well into adulthood.
How strong is this correlation and what exactly does it foretell? I've dived deep into all the available research to sort myth from fact, and present this comprehensive look at what digit ratio really means for your masculinity.
Prenatal Testosterone, Androgen Receptors, and 2D:4D Finger Ratios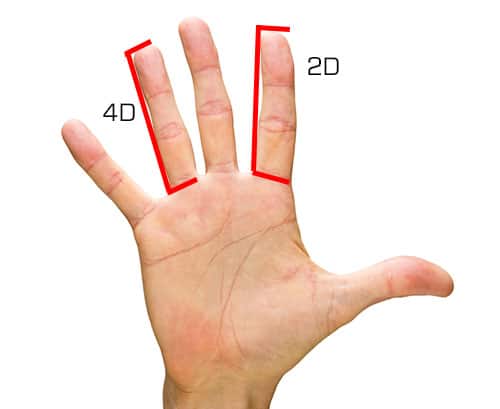 Scientists have long noticed that men's ring fingers are generally longer than their index fingers. With women, it tends to be the reverse: their index fingers are usually longer. They've called this difference in length between the index finger and ring finger the "2D:4D ratio."
Instant Access to Current Spot Prices & Interactive Charts
2D stands for " the second digit" — that's your index finger, and 4D means "fourth digit" — your ring finger. So if your index finger is 2.9 inches long and your ring finger is 3.1 inches long, you have a 2D: the 4D ratio of .935 (2.9/3.1 = .935). A longer ring finger compared to your index finger is considered a "low 2D:4D ratio."
If your index finger is 3.1 inches long and your ring finger is 2.9 inches long, your 2D:4D ratio would be 1.06 (3.1/2.9 = 1.06). A longer index finger compared to your ring finger is considered a "high 2D:4D ratio."
Digit ratios lie on a spectrum. Some men have really low digit ratios, like .83, and some folks have really high digit ratios, like 1.06.
The Connection Between 2D:4D Ratio and Prenatal Hormones
Herbal Secrets USDA Ce... Buy New $15.99 ($1.00 / Ounce) (as of 12:55 UTC - Details)

While scientists during the mid-20th century were able to statistically establish this general difference between men's and women's 2D:4D ratios, it wasn't until the 1980s that researchers began speculating as to why this sex difference exists and how 2D:4D ratios may correlate with different gender traits. Dr. Glenn Wilson of King's College was one of the first to hypothesize that 2D:4D finger ratio was determined by sex hormone exposure in the womb.
In 1998, further strides were made when psychologist John Manning of the University of Liverpool (now at Swansea University) published a paper in which he hypothesized that 2D:4D ratios are determined by prenatal exposure to testosterone. Other researchers came to similar conclusions using corollary evidence.
It wasn't until 2011, however, that scientists were able to directly show that prenatal exposure to testosterone determines the 2D:4D ratio. While prenatal testing and studies are difficult-to-impossible to ethically conduct on human fetuses, the general difference between 2D:4D ratios in human males and females also exists between the sexes of other animals. Consequently, animal studies can provide insight into why these general differences exist.
Developmental biologists Martin Cohn and Zhengui Zheng conducted experiments on fetal mice in which they modified the amounts of testosterone they were exposed to in utero. What they discovered is that it's not just the amount of fetal testosterone that determines digit ratio, but rather the balance between testosterone and estrogen. Mice with higher testosterone concentrations or low estrogen levels had more male-like digit ratios (low 2D:4D ratio), while mice with higher estrogen levels or low testosterone levels had higher, more feminine digit ratios (high 2D:4D ratios).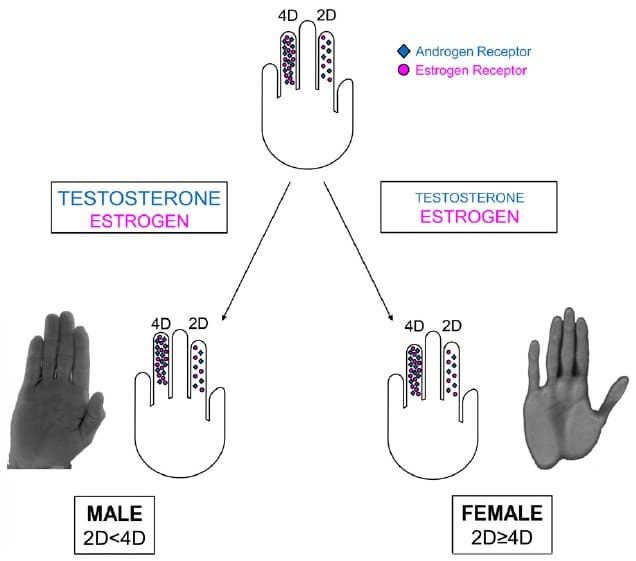 Cohn and Zheng posit that what's true for mice is true for humans as well: prenatal exposure to a mixture of testosterone and estrogen is what determines 2D:4D ratios. So the lower your 2D:4D digit ratio is, the more testosterone or less estrogen you were exposed to in the womb. The higher your 2D:4D ratio, the less testosterone or more estrogen you were exposed to as a fetus.
What Causes Differences in the Levels of Sex Hormones in the Womb?
What causes these differences in the levels of sex hormones in the womb? Scientists aren't yet sure, though they have some hunches. Genetics certainly play a role, both of the mother and the fetus. For one thing, some research suggests that mothers with elevated testosterone levels influence the testosterone levels of their daughters (but there appears to be no such influence with maternal testosterone on boys). Some research has also found that the first-born child, whether male or female, is exposed to more estrogen prenatally, for reasons we don't yet understand.
Testosterone Booster f... Buy New $24.98 ($12.49 / Fl Oz) (as of 12:35 UTC - Details)

Environmental factors are in play as well. For example, fetal testosterone levels are elevated in both males and females if the mother smokes during pregnancy, but are lower if the mother consumes alcohol. A mother may also expose her baby to more estrogen in the womb if she herself is exposed to a high level of "xenoestrogens," chemicals that imitate estrogens in the body, and that are found in nearly everything – from plastics and gasoline to cosmetics and shampoo.
The timing and duration of a fetus' exposure to sex hormones matter, too. If testosterone surges a little too late or early, the result can be a male fetus that is male in both body and mind but isn't as masculinized as he would be if the T surge had happened at the usual time.
Duration of exposure may also influence how masculine or feminine your 2D:4D ratio is and consequently, how masculine and feminine your body and mind end up. Different parts of the fetal body and brain are open to androgen sensitivity at different times during gestation. It's possible that you had a high testosterone to estrogen exposure during the period in which penis formation occurs, but for some reason, it started to peter out when 2D:4D formation happens or when other sex parts of the body and mind are receptive to androgen. Consequently, you end up with a higher, more female-like 2D:4D ratio despite being very masculine in other areas.
What affects the timing and duration of the release of sex hormones in utero? Here again, researchers really aren't sure.
While scientists don't definitively know why some individuals are exposed to greater and lesser amounts of estrogen and testosterone in the womb, they do know that 2D:4D ratios are directly caused by the make-up of this hormonal mixture, and can use these ratios to explore possible correlations between prenatal sex hormone exposure and other psychological and physiological traits in individuals later on in life. Testosterone, in particular, has what scientists call an "organizational effect" on the human mind and body — exposure to it during sensitive periods in utero has permanent effects on the mind, body, and behavior. Let's take a closer look at what some of those effects might be.