This is a rumination on lies — layer upon layer of lies — told by US intelligence agencies and other officials about what Lee Harvey Oswald, or someone pretending to be him, was allegedly doing in Mexico City just weeks before the Kennedy assassination. The original goal, it seems, was to associate Oswald, in advance of the events of Dealey Plaza, with the USSR and Cuba.
The essay focuses on tales told by Richard Helms, a top official of the CIA in 1963 who later became its director — and  is based on a talk given by Peter Dale Scott.
Scott is the popularizer of the expression, "Deep Politics," and a virtuoso when it comes to what sometimes seems like grabbing smoke — capturing proof, however elusive, of motives and objectives that could explain  the machinations of US intelligence agencies — and then analyzing the residue.
Not all of the chicanery Scott describes is subtle. For example, in an apparent attempt to bring the Russians into the picture, someone delivered to the FBI's Dallas office a purported audiotape of Oswald calling the Soviet embassy in Mexico City. That failed, though, when FBI agents decided that the voice did not seem to be Oswald's.
Then, two days later, the FBI joined the subterfuge by falsely reporting that "no tapes were taken to Dallas." Because of this lie, an investigation more than a decade later by the House Select Committee on Assassinations would erroneously declare that there was no "basis for concluding that there had been an Oswald imposter."  (The existence of an Oswald impersonator in the months before the president's murder would in and of itself have been prima facie evidence of a conspiracy in Kennedy's death.)
And then there was the attempt to set up a Soviet agent…
You will probably not be able to keep up with each tall tale, nor does it matter. They have a cumulative effect, one that explains why it is impossible to study these documents without coming away believing in conspiracy.
There is dark humor here — reminiscent of the television sit-com of the 1960's, "Get Smart" —
about a secret agent who was always telling one lie after another, blissfully unaware that each new lie not only undermined the last one, but any new one that came after:
Smart:      I happen to know that at this very minute seven Coast Guard cutters are converging on this boat. Would you believe it? Seven.

Mr.Big:     I find that pretty hard to believe.

Smart:      Would you believe six?

Mr.Big:     I don't think so. Deep Politics and the ... Scott, Peter Dale Best Price: $4.76 Buy New $26.14 (as of 12:35 UTC - Details)

Smart:      Would you believe two cops in a rowboat?
Would you believe that the US intelligence community has been telling us the truth all of these years?
Essay based on talk given by Peter Dale Scott at Third Annual JFK Assassination Conference in Dallas, 2015. (Produced by TrineDay Books, Conscious Community Events, and the JFK Historical Group.)
—WhoWhatWhy Introduction by Milicent Cranor
(This is Part 3 of a three-part series. For Part 1, please go here, and for Part 2, go here.)
The CIA's Obstruction of Justice in 2015
Now let us compare the CIA's lying performance in 1964 with its lying performance in 2015. In the wake of the Kennedy assassination, members of many U.S. agencies, including also the FBI, the Office of Naval Intelligence, the U.S. Air Force, and the Secret Service, withheld relevant information from those investigating the murder.[1] But to my knowledge there is in 2015 only one U.S. agency that is still actively maintaining the cover-up – and that is the CIA.
I am referring to the CIA's declassification and release of a previously classified CIA study by CIA historian David Robarge, "DCI John McCone and the Assassination of President John F. Kennedy."[2] The essay is worth reading, and it contains interesting information on such matters as McCone's relationship with Robert Kennedy. It is also significantly selective: it does not mention for example that McCone only learned late on the night of November 22 that "the CIA had known beforehand of [the alleged] Oswald's trip to the Soviet Embassy in Mexico City," nor that as a result McCone "was enraged, ripping into his aides, furious at the way the agency was run."[3]
Buried within Robarge's discussion of John McCone and the Commission – a pertinent but hardly central topic – are a more important thesis statement and conclusion about the CIA itself. In the light of what I have just said about Helms, I would charge that both of these statements are false – so false indeed as arguably to constitute, once again, obstruction of justice.
Oswald, Mexico, and De... Peter Dale Scott Best Price: $3.00 Buy New $7.95 (as of 07:00 UTC - Details)

The thesis statement on page 8 is that "Under McCone's and Helms's direction, CIA supported the Warren Commission in a way that may best be described as passive, reactive, and selective." This claims that the CIA's deception of the Warren Commission was a sin of omission. But no, the CIA was not just passive. Helms perjured himself, just as he lied again in the 1970s.
Worse, the article focuses on the failure of the CIA to tell the Warren Commission about its plots to assassinate Castro, which may very well have been relevant; but in so doing it deflects attention away from the CIA's suppression of its own LCIMPROVE operation in October involving "Lee Oswald" (or "Lee Henry Oswald"), which unquestionably was of very great relevance.
Worst of all is the article's conclusion:
Max Holland, one of the most fair-minded scholars of these events, has concluded that "if the word 'conspiracy' must be uttered in the same breath as 'Kennedy assassination,' the only one that existed was the conspiracy to kill Castro and then keep that effort secret after November 22nd."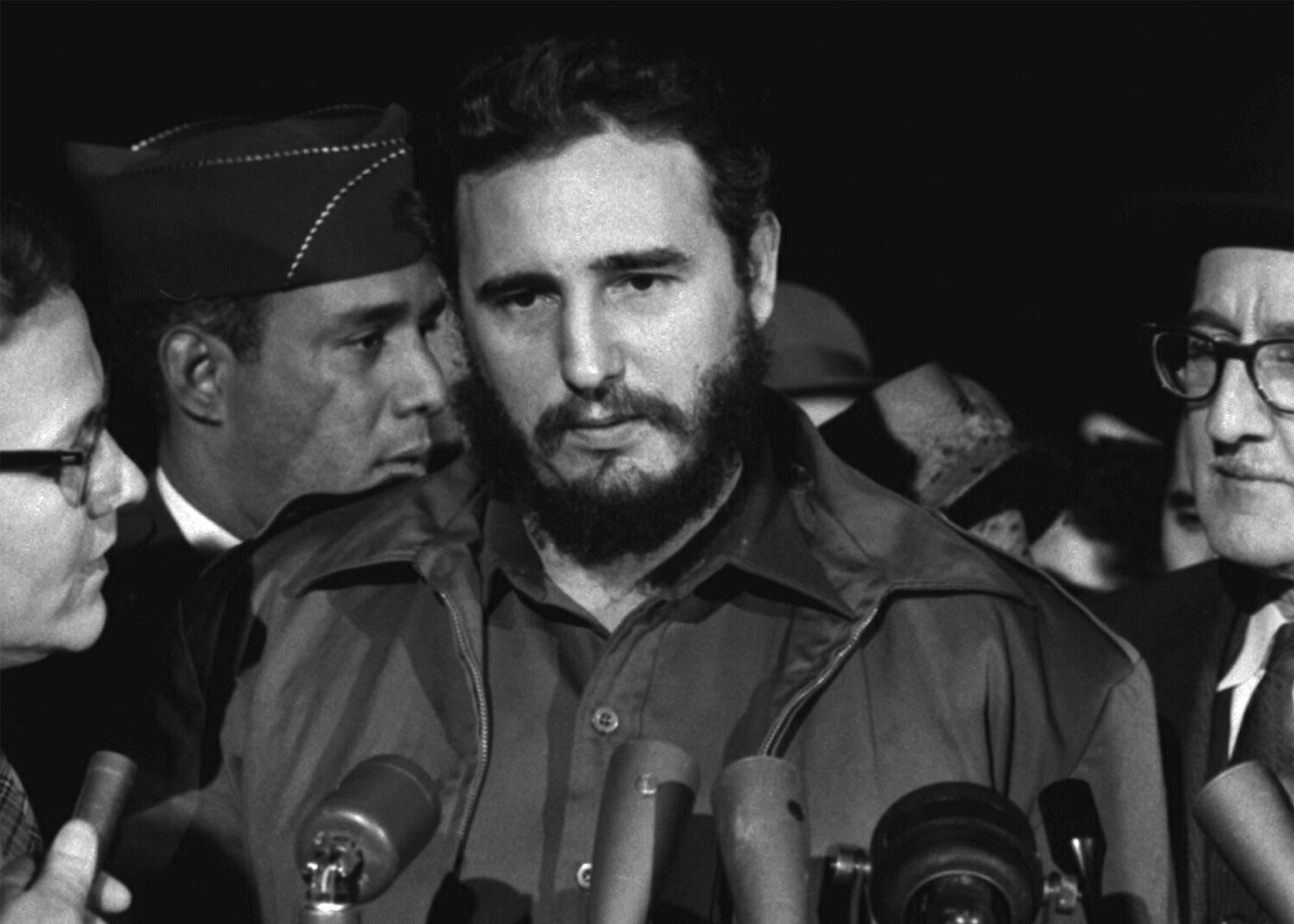 Fidel Castro Photo credit: Library of Congress / Wikimedia
Of the many things wrong with this sentence, the worst service to truth in my mind is the skillful effort to divert attention away from the Angleton operation involving Oswald, and to focus instead on plots to kill Castro. This is an old ploy dating back to 1965, following in the footsteps of old CIA veterans and friends like Brian Latell and Gus Russo. It allows a writer like Philip Shenon to quote from the Robarge study the old red herring question "Did Castro kill the president because the president had tried to kill Castro?"[4]