There were a few different stories coming out over the last few days that reveal the true nature of government and the apparatchiks who use disinformation, devious machinations, fraudulent accounting, and taxpayer money to cover up their criminality, lies, and the true state of the American economy. The use of government accounting tricks to obscure the truth about our dire financial straits is designed to keep the masses sedated and confused.
A few weeks ago, to great fanfare from the fawning faux journalists who never question any Washington D.C. propaganda, they announced the lowest annual deficit of Obama's reign of error.
For the fiscal year that ended Sept. 30 the shortfall was $439 billion, a decrease of 9%, or $44 billion, from last year. The deficit is the smallest of Barack Obama's presidency and the lowest since 2007 in both dollar terms and as a percentage of gross domestic product.
Jack Lew, the Treasury Secretary, and Obama were ecstatic as they boasted about this tremendous accomplishment. I find it disgusting that our leaders hail a $439 billion deficit as a feather in their cap, when until the mid-2000's the country had never had an annual deficit above $300 billion. After 183 years as a country, the entire national debt was only $427 billion in 1972. Now our beloved leaders cheer annual deficits above that figure. What a warped, deformed, dysfunctional nation we've become.
When the government reported this tremendous accomplishment, there was no way to verify the number against the national debt figures, as the government stopped reporting the daily national debt figure because of the debt ceiling impasse with Congress. The farce of these Kabuki Theater exercises in government incompetence is almost beyond comprehension.
The Treasury Department pretends the national debt is not increasing, even though they continue to spend $1.43 billion more per day than they are bringing into their coffers. Future generations see their debt obligation rise by $59.6 million per hour and we act like this is a reasonable and normal situation. The idiocy of these Keynesian extremists is enough to make a rational person's head explode.
Once the two heads of one party agreed to raise the debt limit to infinity, the Treasury decided to update the National Debt figure. They stopped counting in mid-March at $18.151 trillion. When they resumed counting on November 2 it skyrocketed by $341 billion to $18.492 trillion. Then it jumped another $40 billion on November 3 to $18.532 trillion.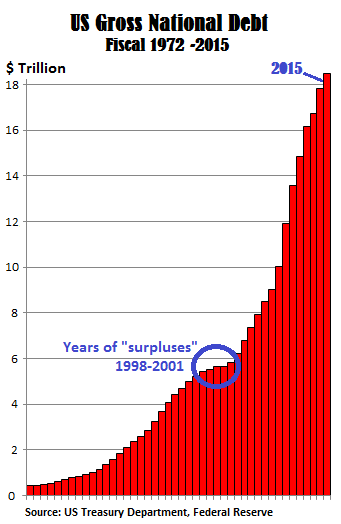 It takes a little addition and subtraction to estimate the true fiscal 2015 increase in the National Debt, so most of graduates of our government controlled public education system would be helpless, as they are concentrating the crucial issues of social justice, celebrating diversity, and declaring global warming non-debatable.
Crippled America: How ... Donald J. Trump Best Price: $1.48 Buy New $8.97 (as of 03:40 UTC - Details)

The Secret Club That R... Kate Kelly Best Price: $2.23 Buy New $16.87 (as of 09:55 UTC - Details)

Against the State: An ... Rockwell Jr., Llewelly... Best Price: $5.02 Buy New $5.52 (as of 11:35 UTC - Details)