Here we go again. The dying legacy media will continue to support the status quo, who provide their dwindling advertising revenue, by papering over the truth with platitudes, lies, and misinformation. I have been detailing the long slow death of retail in America for the last few years. The data and facts are unequivocal. Therefore, the establishment and their media mouthpieces need to suppress the truth.
They spin every terrible report in the most positive way possible. They blame lousy retail results on the weather. They blame them on calendar effects. They blame them on gasoline sales plunging. That one is funny, because we heard for months that retail spending would surge because people had more money in their pockets from the huge decline in gasoline prices.
September retail sales were grudgingly reported by the Census Bureau this morning and they were absolutely dreadful. This followed an atrocious August report. The MSM couldn't blame it on snow, cold, flooding, drought, or even swarms of locusts. So they just buried the story in their small print headlines. The propaganda media machine had nothing. They continue to spew the drivel about a 5.1% unemployment rate as a reflection of a booming jobs market. If we really have a booming jobs market, we would have a booming retail sector. The stagnant retail market reveals the jobs data to be fraudulent. The 94 million people supposedly not in the job market can't buy shit with their good looks.
Despite the storyline about consumer austerity being the reason for sluggish spending, the facts prove otherwise. Consumer spending accounted for 68% of GDP in 2008 at the peak. Seven years later it still represents 68% of GDP. The difference is the spending has shifted dramatically towards services since the Wall Street created financial crisis. Spending on services has grown by 31% versus 20% for goods since 2008. Guess what has caused that surge?
OBAMACARE
Spending on healthcare has skyrocketed for the average person. Rent, taxes, utilities and educational expenses have all exploded higher. Meanwhile, real median household incomes are 7% lower than they were in 2008. They are 7% lower than they were in 2000 and equal to the level of 1989. And the bubble headed bimbos on CNBC can't understand why retail sales aren't booming? Did they get their journalism degrees from the University of Phoenix or Trump University?
Let's dig into the data for some shits and giggles. First off, you need to realize how bad it really is when you consider US automakers are essentially giving away vehicles to anyone who can fog a mirror, as long as they are willing to obligate themselves into never ending debt enslavement. The average amount financed of $27,000 and the average length of loan of 65 months are both record highs. As the automakers get more desperate by the day, 7 year 0% loans are now becoming the norm. Dealer incentives in the thousands proliferate. And subprime auto loans now constitute over 20% of all sales. The pace of subprime auto loans has more than doubled the pace of prime loans since 2010.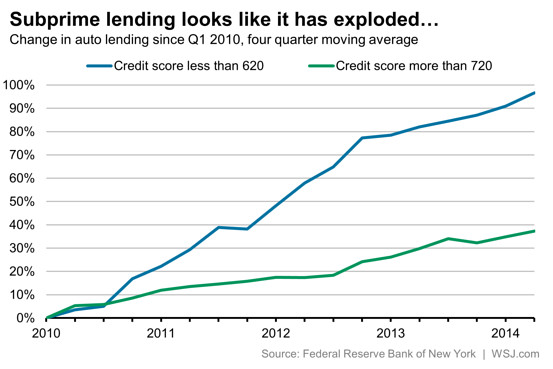 The Fed, Treasury and Wall Street decided auto sales would be the tonic to cure our economic ills, so they opened up the debt floodgate to get everyone and anyone into a new vehicle. They needed booming auto sales to provide the appearance of economic recovery. So, while overall consumer expenditures increased by 21% since 2010, auto loan debt grew by an astounding 41%. An this is just the debt side of the equation.
Over 27% of all vehicle "sales" are actually leases. Calling a three year rental a car sale stretches the concept of sale to the limits. Anyone who finances a car over seven years or leases a car, can never escape the chains of monthly payment debt. They will always be underwater, just the way Wall Street likes it. The proof these "strong" auto sales are just another debt based scheme are the non-existent profits of automakers and stock prices at 2010 levels. If auto sales are so healthy why would GM stock be down 18% since 2013 and Ford stock down 14% in the last year?
If you strip out the debt financed auto bonanza, retail sales are pitiful on a monthly and annual basis. I thought the later Labor Day was the reason for poor August sales. Maybe kids didn't go back to school this year. The categories with NEGATIVE monthly sales was immense: Electronics & appliances (what about that housing boom), Building materials & garden equipment, Food & beverage, Gasoline stations, General Merchandise (Wal-Mart), Misc stores, Nonstore (Amazon). Overall, retail sales excluding autos was down 0.3% over the prior month. August sales were down 0.1% over July. The news just gets worse and worse as the government reports lower and lower unemployment. A fascinating dichotomy.