I recently discussed how traders were stampeding out of gold as a result of rising interest rates and the threat of evaporating monetary fluid that was lubricating markets. Hovering around $1,200 at the beginning of July, the gold price has completely disconnected from the precious metal's fundamentals, in my opinion. Prices have fallen too far out of fear, but the drivers for gold are still in place.
My friend and highly respected analyst, Gregory Weldon, highlighted an important point about rising rates in the U.S. The coupon on the nation's $13.22 trillion debt averages 1.88 percent with an average maturity of 5.4 years. As interest rates rise, debt will be rolled over at a higher rate, making the burden even greater than it already is. This suggests a likely tipping point for Treasuries. Will the Federal Reserve suppress yields at that "line in the sand?"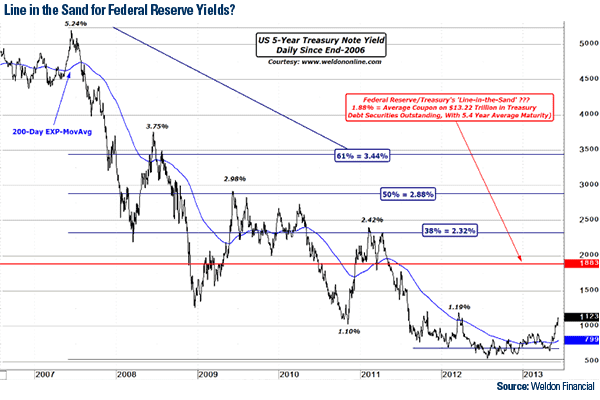 In this environment, gold should remain attractive. However, as the West flees the precious metal, another set of gold buyers has come forward with the aim to preserve wealth. Take a look at the chart below which shows total gold production compared to the gold deliveries on the COMEX and the Shanghai Gold Exchange. In May, gold imports into the Asian giant rose to the second-highest level ever. While mining production is around 1,134 tons so far this year, gold delivery on the Shanghai Gold Exchange is 918 tons. This is strikingly in contrast to the gold delivery on the COMEX, which stands at only 103 tons year-to-date as of the end of May.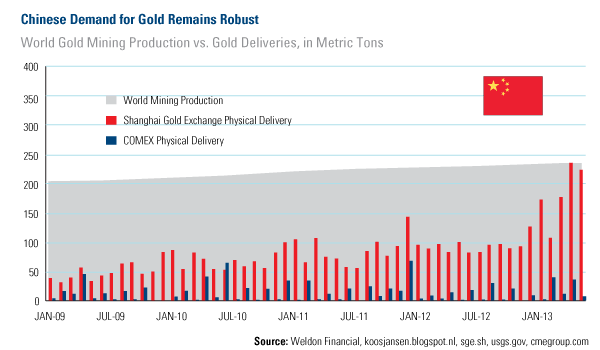 In fact, this year's demand is so significant that the physical gold delivered on the Shanghai Gold Exchange through May is almost all of the official gold reserves in China! As George Topping of Stifel Nicolaus puts it, "Annualizing 2013 year-to-date figures, China's imports would be equivalent to 50 percent of [world] mine production."
[amazon asin=0470724269&template=*lrc ad (left)]
[amazon asin=1610161963&template=*lrc ad (left)]
[amazon asin=B000WUJ5X6&template=*lrc ad (left)]
[amazon asin=B0009Z9TVW&template=*lrc ad (left)]