Sports jackets. Suit jackets. Blazers. Most men use these terms interchangeably, as do many men's clothing retailers.
Because of this, the differences between these three classic menswear pieces ends up being a mystery. Are these jackets really all that different? (Yes, they are!) And why should a man even care to take the time to learn these details?
Let me give you three reasons:
1) It'll save you money. Armed with this knowledge, you can buy the right jacket that will stand the test of time.
2) You'll show respect to others. Each of these jackets has a slightly different level of formality. You don't want to try wearing a sports jacket to an event that calls for a suit.
3) You'll learn a bit of history. Each of these jackets has its own unique story of how it came to be. Understanding this helps you grasp the changes men have lived through over the last 150 years.
This article is aiming to once and for all sort out the main differences between these three iconic jackets.
Read on, gentlemen, and discover how these pieces can have a place in your wardrobe.
The Suit Jacket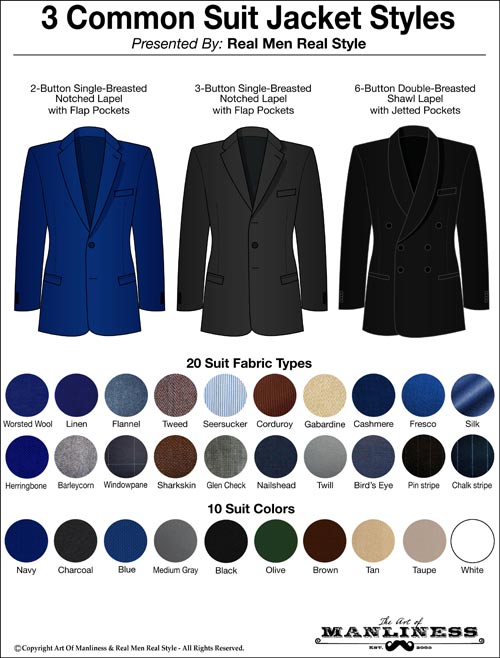 The most common jacket on the planet, and the one most men own.
A suit jacket is defined as being such only if it's matched with trousers made from the same exact swatch of fabric.
For the vast majority of situations, you should wear suit jackets with their matching trousers. Part of the reasoning for this is that if you wear your suit jacket as a blazer — that is, pairing it with jeans or other trousers — it can wear or fade differently than the suit trousers. So the next time you go to wear that suit, it may not look congruous.
Another defining feature of the suit jacket is that it should be a closer and tighter fit than blazers/sports jackets. This is because suit jackets aren't meant to be layered; at most, you'll be wearing a dress shirt and thin sweater vest underneath the jacket.
If you are just learning to dress sharp, wearing a suit is the best approach for you to take to avoid the risk of looking out of place, or even worse, not knowing what you are doing.
Most Common Fabrics Used for the Suit Jacket
There are many fabrics that are used for the suit jacket. They're distinguished from other jackets in that they're often more lightweight and finer, and made with higher quality materials. Below are the most common:
Worsted Wool. Created by aligning fibers and then turning them into yarn. More thin and rough than woolen wool, worsted wool is an excellent protector from cold weather.
Cashmere. Not originally a common fabric for the suit jacket due to its durability and its price point. Cashmere is slowly starting to be the fabric of choice on a suit jacket, though, based on its extremely soft and luxurious feel, which justifies its shortfalls.
Linen. An extremely lightweight option and meant for spring and summer use. One downside with linen is that it's prone to wrinkling.
Seersucker. An extremely thin form of cotton, the seersucker fabric is made for the spring and summer months. The most common colors are white and blue, and it contains distinct textures that work well with different colored trousers.
Silk. Quite possibly the most luxurious fabric you can buy. A suit jacket made of 100% silk is extremely soft and very breathable.
Suit Jacket Colors
Given its formal nature, the suit jacket is mostly found with solid, foundation colors. For your first suit, stick with solids. But once you own a few, bringing in pin stripes, chalk stripes, windowpanes, and textured weaves makes sense in order to add variety to the wardrobe. The most common colors are:
Common Types of Suit Jackets
Suit jackets come in all shapes and sizes. These are the three you are most likely to see:
2-Button Single-Breasted. The most common variety of suit jacket you can purchase. Timeless versions have a notched lapel and flapped pockets to create structure and definition.
3-Button Single-Breasted. Not as common as the 2-button variety. An ideal option for taller men as it helps frame their body well. You generally only want to button the middle button with this option. (Remember to follow the Sometimes, Always, Never Rule!)
6-Button Double-Breasted. A much less common version of suit jacket but something worth talking about is the 6-button double-breasted suit. This version is considered highly formal and best used for special events. Just remember to leave the bottom buttons undone.