Every week, our investment team reviews a variety of sources to formulate a summary of the top events in the gold, resources, and emerging markets. The results are categorized in terms of strengths, weaknesses, opportunities and threats. We believe this SWOT model helps investors make informed decisions about their gold and gold stock investments.
For the week beginning January 5, here is the SWOT for the gold market.
Strengths
According to Bloomberg, gold analysts are the most bullish in a year on speculation that investors are covering near-record short positions. Following the first annual decline in 13 years, fifteen analysts surveyed by Bloomberg expect gold to rise this week, while two are bearish and four are neutral; that is the highest proportion of bulls on record since December 2012.
Tiffany & Co., the world's second-largest luxury jeweler retailer, reported a 4 percent increase in holiday sales, with positive sales growth in all regions. Demand was largely driven by an 11 percent increase in Europe, a 6 percent rise in the Americas and a 5 percent boost in Asian sales.
Klondex Mines, the Nevada based high-grade producer that recently purchased Newmont's Midas mine, was featured in Grant's Interest Rate Observer this Friday. Pierre Lassonde, the legendary Chairman of Franco-Nevada, commented that Klondex is expected to do 150,000 ounces a year at a very high grade, resulting in one of the lowest costs in the industry. In addition, Lassonde gave a vote of confidence to CEO Paul Huet, who demonstrated an exceptional knowledge of the deposit and the Midas mill while working for him during his tenure at Newmont.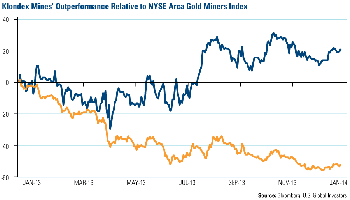 (Click on image to enlarge)
Weaknesses
India's Economic Affairs Secretary Arvind Mayaram announced that the restrictions on gold imports are likely to continue until at least the end of March, unless a significant improvement takes place with regard to the The Case for Gold

Best Price:

$1.90 (as of 11:35 EST -

Details

) nation's current account deficit. It is worth mentioning that pressure has been building as Central Bank Governor Raghuram Rajan has voiced his inclination to remove the restrictions, which encourages smuggling.
Bank of America lowered its 2014 gold price forecast by 11 percent to $1,150 per ounce, arguing that physical purchases from Indian and Chinese buyers will weaken. In a similar note, ABN AMRO analysts say gold may drop back below $1,180 per ounce if U.S. macro data continues on the strong side.
Scotia Mocatta had a look at the continued redemptions in gold ETF products, which have not ceased in the new year. In its view, good macro data is encouraging further liquidations as investors continue to look for "risk on" trades. The most recent behavior revalidates the opinion of some analysts who argue the gold price has dissociated itself from ETF flows, forming a bullish, technical double bottom – a trait that has evidenced quite strongly this January.
Fascism vs. Capitalism... Llewellyn H. Rockwell Jr. Best Price: $3.95 Buy New $8.00 (as of 02:25 EST - Details)

How an Economy Grows a... Peter D. Schiff, Andre... Best Price: $12.99 Buy New $21.90 (as of 10:45 EST - Details)

The Great Deformation:... David A. Stockman Best Price: $2.32 Buy New $11.22 (as of 12:40 EST - Details)

Economics in One Lesso... Henry Hazlitt Best Price: $9.43 Buy New $10.67 (as of 07:45 EST - Details)