The Best Watches Under $500
You don't want to sacrifice too much of your spendable cash on luxury items such as a watch, for that would cut into your silver fund. But, at the end of the day, the shallow play around you, and your place in it, depends on how others perceive you. And so, you want to get a nice watch for a little extra respect.
If you are perceived as a respectable person in daily life, people are more likely to listen to you. An interesting explication of this principal comes from the science conferences of the 1930s. When Kurt Goedel introduced his Incompleteness Theorem, a revolutionary theorem which proved the potential math in particular had to prove itself wrong, he presented next to Albert Einstein. The first time Goedel introduced his theory, it didn't go too far. Everybody's attention was on Einstein, since Einstein had the authority gained from past notoriety.
Past notoriety can be conveyed in sense of style. Albeit an unfortunately superficial society it is, one's gotta be all in if they're to take on the machine of business. That's why the right watch is important, and not necessarily the bright watch.
Because you're looking to put some way for your silver stash, here is a guide to cool watches under $500.
1. The Genuine Morgan Silver Dollar Watch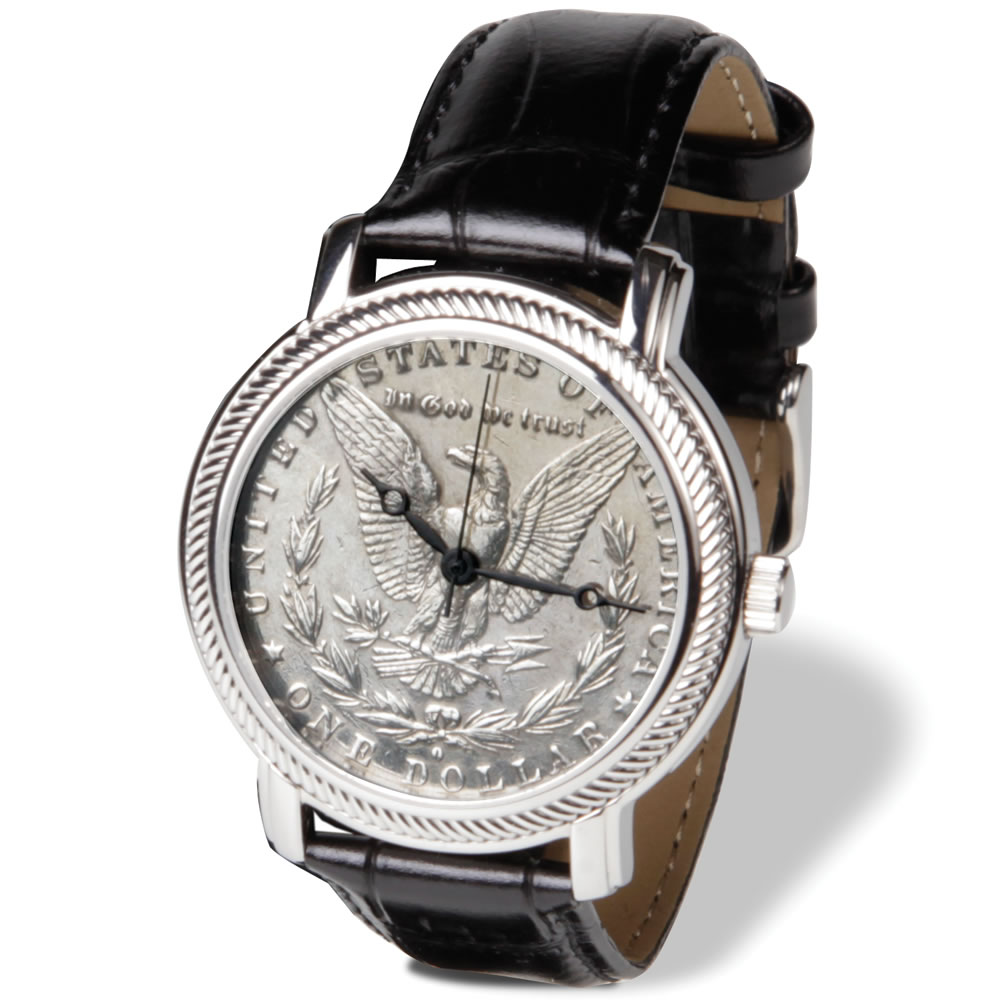 But, you're just not ready to spend all that money without getting at least a bit of silver..
From Hammacher:
This is the timepiece that incorporates a genuine U.S. Morgan silver dollar into its watchface. Designed by English engraver George T. Morgan, the coin was minted from 1878 to 1921. With three hands, the timepiece employs the reverse side of the coin as the watchface, featuring a bald eagle, the mintmark below the wreath, and a tiny, sideways 'M' etched into the left loop of the wreath's ribbon–the first U.S. coin to use the designer's initial on both sides. Each watchface is unique because of variation in wear, most notably on the crest of the eagle's breast. Each coin has a silver content that is 90% of 0.900 fineness and is cut cross-sectionally and surrounded by the watch case. Quartz movement provides reliable timekeeping. Black leather strap fits wrists up to 8 1/2″ in circumference. 1 3/16″ diameter x 7/16″ D.
This watch could be yours for about $250.
2. Tissot
Price: $459
Tissot is owned by Swatch Group out of Switzerland. Tissot joins Breguet, Jaquet Droz, Blancpein, OMEGA, Longiness and others as a watchmaker under the Swatch umbrella. The above-pictured watch is the Heritage Visodate. It is a watch that looks much more expensive than it is.
3. Victorinox, Swiss Army
There is a long list of Victorinox's in new condition available at eBay for between $100-$200. That is great value considering that many of these watches run from about $350-$500. Lurk on the eBay and search for the watch that's right for you. Some examples:
Under $100

Under $200:

Under $500

4. Nixon
A Nixon watch on your wrist will give off the impression that you're athletic, an extreme sporter perhaps, and also younger. Nonetheless, Nixon makes some beautiful watches for under $500.

5. Seiko
SRP315 $268
In my opinion, much better than a Seiko is a Victorinox watch. It is European, and it is a recognized and respected brand. Seiko is not popular among many watch enthusiasts due to the watches' lack of craftsmanship and generic nature. At the same time, it a very affordable watch, and it gets the job done.
Reprinted with permission from the Silver Vigilante.
November 13, 2012
Copyright © 2012 Silver Vigilante