I am a big fan of the bow and arrow for a variety of reasons, and I personally think that anyone who has an interest in primitive survival skills or modern urban survival should seriously consider purchasing a good bow and arrow and become proficient in using it. There are hundreds of bows to choose from, but my particular bow of choice is an October Mountain Blue Ridge Hunter Take Down Recurve Bow. Below are six reasons why you should consider owning a similar survival take-down bow.
1. Portability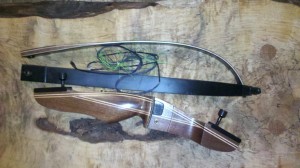 "Take-down" simply means that the bow comes apart in three pieces: the middle grip section and the two limbs. It is simple to take down – just the twist of a couple lug screws and voila. The fact that it comes apart makes it very portable. You can stash the bow in your pack or Bug Out Bag. It's perfect for a Bug Out Vehicle or BOL (Bug Out Location) cache as well. And, it weighs very little. My bow weighs only a couple of pounds – if that.
2. Affordable
A good take-down bow should only cost you a couple hundred bucks and if you take care of it, you can expect it to last your lifetime. Not only is the bow itself affordable, but the ammunition (arrows) are cost effective too. Once you hone your shooting skills, you should be able to retrieve your arrows after shooting and reuse them over and over again. With a little practice, you can also easily make your own arrows using wooden dowels or even natural-found wood and plant shafts.
3. Versatility
Modern arrows have come a long way. Most new carbon fiber arrows are ultra lightweight and have a tip that accepts different screw-in arrow tips. I have an extensive selection of tips to choose from: small game stunner tips, broad-head razor large game tips, standard practice tips, hook tips and line for bow fishing, etc. I've killed both squirrel and deer using my take-down bow with various arrow tips. A good selection of arrow tips can be easily kept in a pack or vehicle. I also practice flint knapping regularly so that if I was ever in a situation when I need to make my own arrow points, I would know how.