ObamaCare will act as a neutron bomb on the U.S. economy for systemic reasons.
Longtime readers know I have repeatedly explained why healthcare, i.e. sickcare, will bankrupt the nation. ObamaCare simply speeds up the coming collapse. Here are two of the dozens of entries I've written on sickcare:
America's Hidden 8% VAT: Sickcare (May 10, 2012)
Can Chronic Ill-Health Bring Down Great Nations? Yes It Can, Yes It Will (November 23, 2011)
I have also explained why ObamaCare's "fixes" are simulacra reforms that don't even address the systemic costs arising from the cartel-fiefdom structure of sickcare:
Why "Healthcare Reform" Is Not Reform, Part I (December 28, 2009)
Why "Healthcare Reform" Is Not Reform, Part II (December 29, 2009)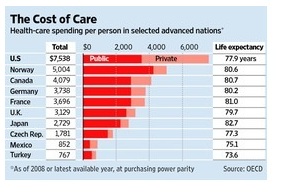 Sickcare is unsustainable for a number of interlocking reasons: defensive medicine in response to a broken malpractice system; opaque pricing; quasi-monopolies/cartels; systemic disconnect of health from food, diet and fitness; fraud and paperwork consume at least 40% of all sickcare funds; fee-for-service in a cartel system; employers being responsible for healthcare, and a fundamental absence of competition and transparency.
Please glance at these charts to see how the U.S. healthcare costs are double those of competing nations on a per capita basis. Japan provides care for a mere 36% per person of what the U.S. spends–yet millions of Americans remain uninsured or underinsured.
If you set out to design a corrupt, inefficient, wasteful, unfair, deranged and unreformable system, you would arrive at U.S.
healthcare/ObamaCare.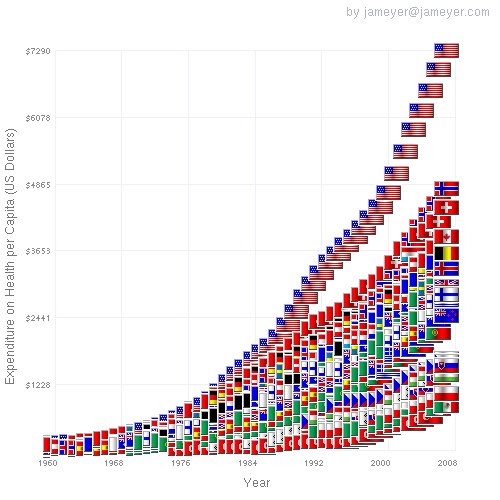 ObamaCare ignores the structural causes of our ill-health: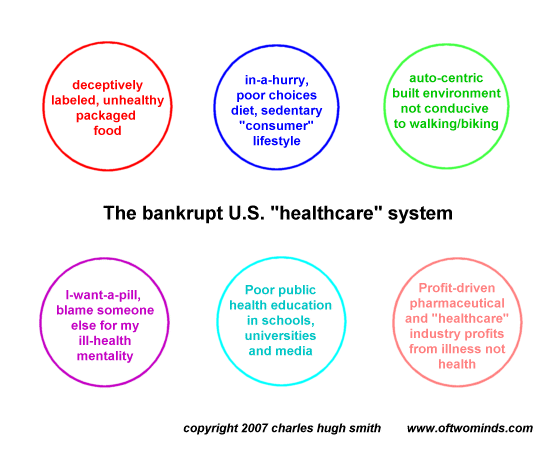 86% of Workers Are Obese or Have Other Health Issue Just 1 in 7 U.S. workers is of normal weight without a chronic health problem.
The Patient Protection and Affordable Care Act (PPACA), i.e. ObamaCare, is a neutron bomb for employment. A neutron bomb is an enhanced-radiation thermonuclear weapon that famously leaves buildings, autos, etc. intact but kills all the people, even those inside buildings. vehicles, etc.