A confluence of events last week has me reminiscing about the days gone by and apprehensive about the future. I've spent a substantial portion of my adulthood rushing to baseball fields, hockey rinks, gymnasiums, and school auditoriums after a long day at work. I'd be lying if I said I enjoyed every moment. Watching eight year olds trying to throw a strike for two hours can become excruciatingly mind-numbing. But, the years of baseball, hockey, basketball, and band taught my boys life lessons about teamwork, sportsmanship, winning, losing, hard work, and having fun. There were championship teams, awful teams and of course trophies for finishing in 7th place. As my boys have gotten older and no longer participate in organized sports, the time commitment has dropped considerably. Last week was one of those few occasions where I had to rush home from work, wolf down a slice of pizza and head out to a school function. It was the annual 8th grade Spring concert.
My youngest son was one of a hundred kids in the 8th grade choir. I think it was mandatory, since none of my kids like to sing. As my wife and I found a seat in the back of the auditorium where we could make a quick escape at the conclusion of the show, neither of us were enthused with the prospect of spending the next ninety minutes listening to off-key music and lame songs. I've been jaded by sitting through these ordeals since pre-school. But a funny thing happened during my 30th band concert. I began to feel sentimental about the past and sorrowful about the future for these Millennials.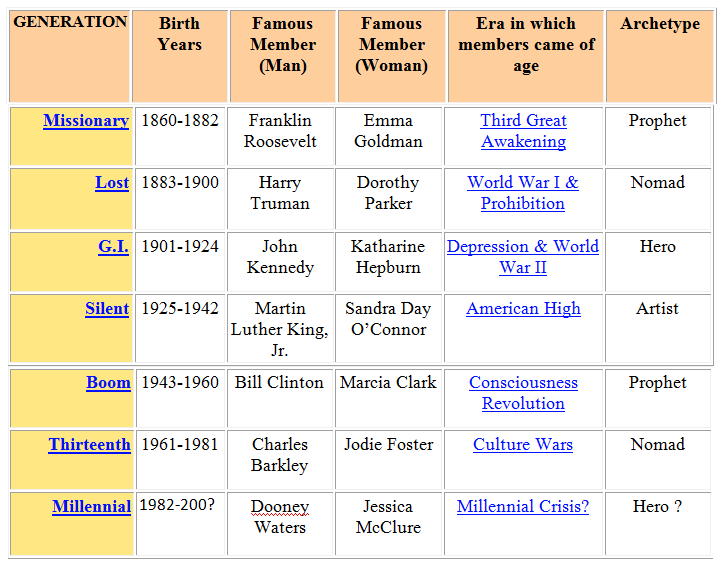 The Millennial generation was born between 1982 and 2004. Therefore, they range in age from 9 years old to 31 years old. There are approximately 87 million of them, or 27.5% of the U.S. population. In comparison, the much ballyhooed Boomer generation only has 65 million cohorts remaining on this earth. The Millennials will have a much greater influence on the direction of this country over the next fifteen years than the currently in control Boomers. There has been abundant scorn heaped upon this young generation by their elders. In a fit of irrationality befit the arrogant, hubristic, delusional elder generations, they somehow blame a cohort in which 54 million of them are still younger than 21 years old for many of the ills afflicting our society. This disgusting display of hubris is par for the course among these delusional elders.
Are Millennials addicted to their iGadgets, cell phones and Facebook pages? Probably. Do they spend too much time on the internet and playing PS3 & Xbox? Certainly. Have they been indoctrinated in social engineering gibberish like diversity and planet worship by government run public school bureaucrats? Absolutely. Are they young, foolish, immature, irrational and not respectful towards their elders? You betcha. Teenagers have acted like this forever. You acted like that. The ongoing crisis in this country and our unsustainable economic system are in no way the result of anything perpetrated by the Millennial generation.
Can the Millennial generation be blamed for the $17 trillion national debt, $222 trillion of unfunded un-payable social obligations promised by corrupt politicians, $1 trillion of annual deficits, undeclared wars being waged across the globe on behalf of the military industrial complex arms dealer mega-corporations, economic policies that have resulted in 48 million people dependent on food stamps, tax policies that enrich those who write the code, trade policies that benefit corporations who gutted the industrial base and shipped jobs overseas to slave labor factories, or monetary policies that have destroyed 96% of the dollar's purchasing power? They had no say in the creation of our untenable welfare/warfare state.
There are no Millennials among the 535 corrupt bought off politicians slithering down the halls of Congress. There are no Millennials running the Too Big To Control Wall Street banks. There are no Millennials in charge of the mega-corporations that buy and sell our politicians. There are no Millennials at the upper echelon of the Military Industrial Complex or in the upper ranks of the U.S. Military. But, and this is a big but, they have done most of the dying in the Middle East over the last ten years in our multiple undeclared preemptive wars of aggression. They have died under the false pretenses of a War on Terror, when they are truly dying on behalf of the crony capitalists who profit from never ending war. They have been fighting and dying to protect "our oil" that happens to be under "their sand". If the energy independence storyline was true, why is our military perpetually at war in the Middle East?
The Millennials will also be required to do the heavy lifting over the next fifteen years of this Fourth Turning Crisis. The Silent Generation is dying off rapidly. The Boomer generation has done some hard living and some hefty eating and with the oldest of their cohort hitting 70 years old, their supremacy will begin to diminish over the coming fifteen years. At 87 million strong, and millions yet to reach voting age, the Millennials will become more influential by the day regarding the future course of this nation. The question is what will be left of this country by the time they assume control. They are saddled with $1 trillion of student loan debt, peddled to them by the government and Wall Street with the false promise of good paying jobs and the opportunity for a better life than their parents lived. They have obediently followed the path laid out by their elders, but they have been badly misled. This American dream has been shattered upon an iceberg of debt, delusion, deception and denial. The unsinkable American empire's hubris and arrogance are leading to its demise. The Millennials are coming of age during a Crisis that will reach momentous magnitudes over the next fifteen years, and they had nothing to do with creating the circumstances which will propel the chaos and anarchy that ensues. But, they will bear the brunt of the dreadful consequences.
Generational Bridge
"The Boomers' old age will loom, exposing the thinness in private savings and the unsustainability of public promises. The 13ers will reach their make or break peak earning years, realizing at last that they can't all be lucky exceptions to their stagnating average income. Millennials will come of age facing debts, tax burdens, and two tier wage structures that older generations will now declare intolerable." – Strauss & Howe – The Fourth Turning
The kids on the stage at the 8th grade Spring concert were all around 14 years old. They are unaware they are in the midst of a twenty year period of Crisis. The boys are at that gawky looking stage with pimply faces and gawky limbs. The girls mature quicker than the boys at that age. These youngsters have barely begun their lives. I was amazed at their proficiency with a wide variety of musical instruments. They displayed poise and talent. The soloists exhibited composure well beyond their years. The performers were all musically endowed and proved that hard work and practice pays off. They were clearly enjoying themselves. They were all dressed in their Sunday best. I found myself enjoying the show despite my jaded attitude upon entering the auditorium. Even my son, wearing one of my ties, actually appeared to be singing during the choir performance. What I saw were hundreds of bright eyed Millennials with their hopes and dreams for a bright future intact. They have no idea what trials and tribulations await them.
I reached a milestone on the age chart last week that had me ruminating about yesteryear and contemplating the future. I reached the half century mark. Birthdays generally do not faze me, but the intersection of the 8th grade concert and my landmark birthday had me pondering my purpose for inhabiting this world. I've likely realized two-thirds of my life. The final third of my life will be spent trying to maneuver through the minefields of this Fourth Turning. I'm a father to three Millennial boys. I consider it my duty to defend and support them during this Crisis. Strauss & Howe wrote their book in 1997 and predicted a Great Devaluation in the financial markets around the time Millennials were entering their twenties. This Crisis began in September 2008 with the worldwide financial collapse created by Wall Street "Greed is Good" Boomers, as the oldest Millennials entered their twenties. It continues to worsen as more Millennials approach their twenties. We've reached a point in history when the elder generations need to sacrifice in order to insure younger generations have a chance at some form of the American dream.
I believe each generation has an obligation to future generations. We are bridge between preceding generations and future generations. We have a civic obligation to manage the resources of the country in a prudent manner. It's our duty to leave the country in a financially viable condition so younger generations have an opportunity to live a better life than their parents. Every generation that preceded the Millennials has achieved the goal of having a better standard of living than their parents. I don't believe my boys will enjoy a better life than I've lived. We've lived well beyond our means for decades. Government, Wall Street banks, corporations and individuals have run up a $56 trillion tab and are sticking the Millennials with the bill.
The $17 trillion national debt accumulated by elder generations to benefit themselves and $222 trillion of unfunded entitlements promised to themselves is nothing but generational theft. It's immoral and possibly the most selfish act in human history. I'm ashamed that my generation and older generations have committed this criminal act of theft. Deficit spending today with no intention of repaying that debt is a tax on future generations. This egotistical abuse of power by the current and past regimes must be reversed voluntarily or it will be done by force. I'm 50 years old and will dedicating my remaining time on this earth fighting to create a sustainable future for my kids and their kids. The lucky among us get eighty years on this planet to make a difference. When did the definition of success become dying with the most toys and spending your life screwing your fellow man by accumulating obscene levels of wealth at their expense? If Boomers and Generation X have any sense of guilt about what they have done, they would be willingly offering to sacrifice their ill-gotten entitlements.